FAQs
Q. What access is provided with a general admission ticket (grounds ticket)?
A. General admission tickets gives the holder access to the tournament grounds (golf course). You can follow your favorite players and enjoy food at concession stands. It does not provide admission into the corporate hospitality areas or the clubhouse. Hospitality tickets are available for purchase for an upgraded experience. Clubhouse tickets are not available for purchase.
Q. Where can I park?
A. Parking is available for spectators at River City Community Church (16765 Lookout Road) for $15/car in advance on Ticketmaster. A free shuttle service will commute you back and forth to the main spectator entrance at the Valero Texas Open. View the Parking page for further details and options.
Q. Once I am at the tournament, what's the best way to see the action?
You can either follow a group around the golf course or stay on a particular hole and wait for the groups come to you. Make sure you check out the digital Spectator Guide upon entering the golf course for tee times so you can keep track of where each group is on the golf course. A general rule of thumb is that it takes each group 15 minutes to play a hole.
Q. What is a Spectator Guide?
A. The digital Spectator Guide provides the pairings which lists the groupings, starting times and starting hole, in addition, to the course map and other useful information.
Q. What should I wear to the golf tournament?
A. Check out the Know Before You Go page for all the details. But in general, wear appropriate casual golf attire along with comfortable walking shoes. Spectators should also have the following items on hand:
Wind breaker or light weight jacket for the mornings
Hat, ball cap or visor
Sunscreen
Sunglasses
Q. Can I bring a chair?
A. You are welcome to bring a collapsible, folding chair. Items not allowed include: chair bags, lawn or over-sized chairs, nor seat cushions.
Q. Can I bring my camera?
A. No cameras are allowed during competition rounds.
Q. Can I bring a Cell Phone?
A. Mobile devices (cell phones, tablets & PDA's) are permitted at the Valero Texas Open. Patrons must keep their phone in SILENT mode. If you need to make a call, step away from competition so you don't disrupt play... and be sure to tell the person you're calling what a great time you are having!
Q. What is a Pro-Am?
A. The Pro-Am is a tournament in which both professionals and amateurs play together as a team. The Valero Texas Open hosts three Pro-Ams during tournament week.
Q. If it is raining will the PGA TOUR players still play?
A. PGA TOUR players will play in the rain unless there is a threat of lightning in the area. If that is the case, players will be evacuated and the gallery will be asked to seek cover off the golf course.
Q. Will I be able to get autographs?
A. To enhance the autograph experience for all spectators, while allowing players to properly prepare for competition, the PGA TOUR has established the following guidelines:
Autographs can only be obtained at designated Autograph Zones.
On-course autographs are not permitted.
On-course autograph seeking is prohibited.
Seeking autographs will be restricted to designated autograph zones organized and managed by the tournament.
Prohibited Items: No memorabilia can be brought into the tournament including pin flags, photos, trading cards, balls and other sports paraphernalia.
Q. Can I purchase food and beverages at the tournament?
A. Yes, concession stands are located throughout the golf course. Coolers are not allowed.
Q. What accommodations do you offer to those wheelchair bound?
A. ADA parking is available at River City Community Church. Click here to learn more.
Q. Where is Lost & Found located?
A. Lost & Found is in the Main Entrance area at the Item Check tent, near the main spectator entrance and sponsor VIP entrance.
Q. When attending the Valero Texas Open, who should I contact in case of an emergency?
A. We hope you enjoy your time at the Valero Texas Open, but should something happen or you begin to feel ill, the tournament's medical team will be able to provide you first-class service at any of the two First Aid Medical facilities or if you can't get to a first aid location, please flag down a Bexar County Sheriff's Officer, security guard or volunteer who can call for medical assistance.
Q. What should I do if I experience inclement weather while at the Valero Texas Open?
A. In the event of thunderstorms, lightning, or other severe weather, "Weather Warning" information will be displayed on the electronic scoreboards around the golf course. If inclement weather is approaching, spectators are advised to take precautions prior to play being suspended. If the siren sounds, you should avoid hilltops, isolated trees, and wire fences. Hospitality tents will be evacuated and everyone will be asked to seek shelter in the hotel or return to the shuttles until the inclement weather has subsided.
Q. Are there other items that I may bring with me?
A. Yes. You are allowed to bring the following approved items: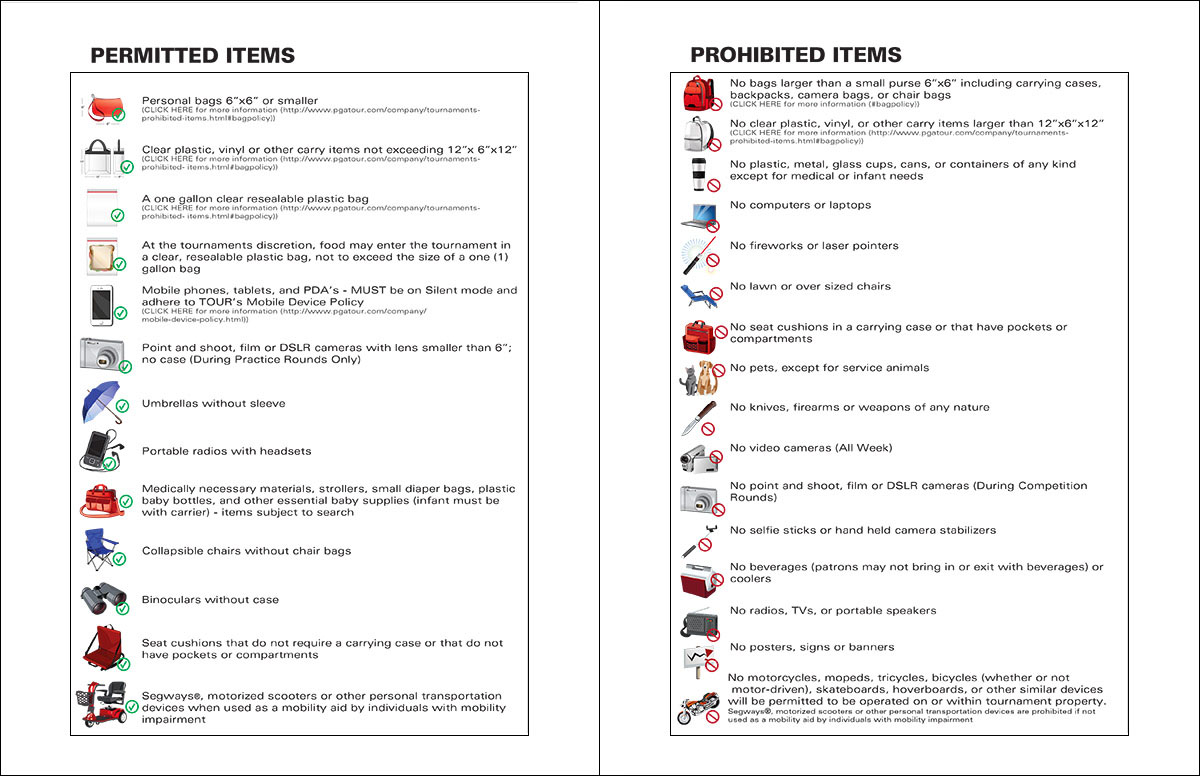 Opaque bags not exceeding 6"x6"x6"
Clear plastic, vinyl, or other carry items not exceeding 12"x6"x12" or a one gallon clear re-sealable plastic bag
Mobile phones, tablets, and PDA's (MUST be on Silent mode and adhere to TOUR's Mobile Device Policy)
Still camera with lens smaller than 6 inches (no case; Practice Rounds Only)
Umbrellas without sleeve
Portable radios with headsets
Medically necessary supplies
Infant items: strollers, small diaper bags, plastic baby bottles and other necessary baby supplies (infant must be with carrier – items subject to search)
Collapsible chairs without chair bags
Binoculars without case
Reusable plastic or metal cups/bottles that are empty upon entry and exit, and cannot hold more than 32-ounces
Q. Is there anything prohibited that I shouldn't bring with me?
A. Yes. Please do not bring any of the following: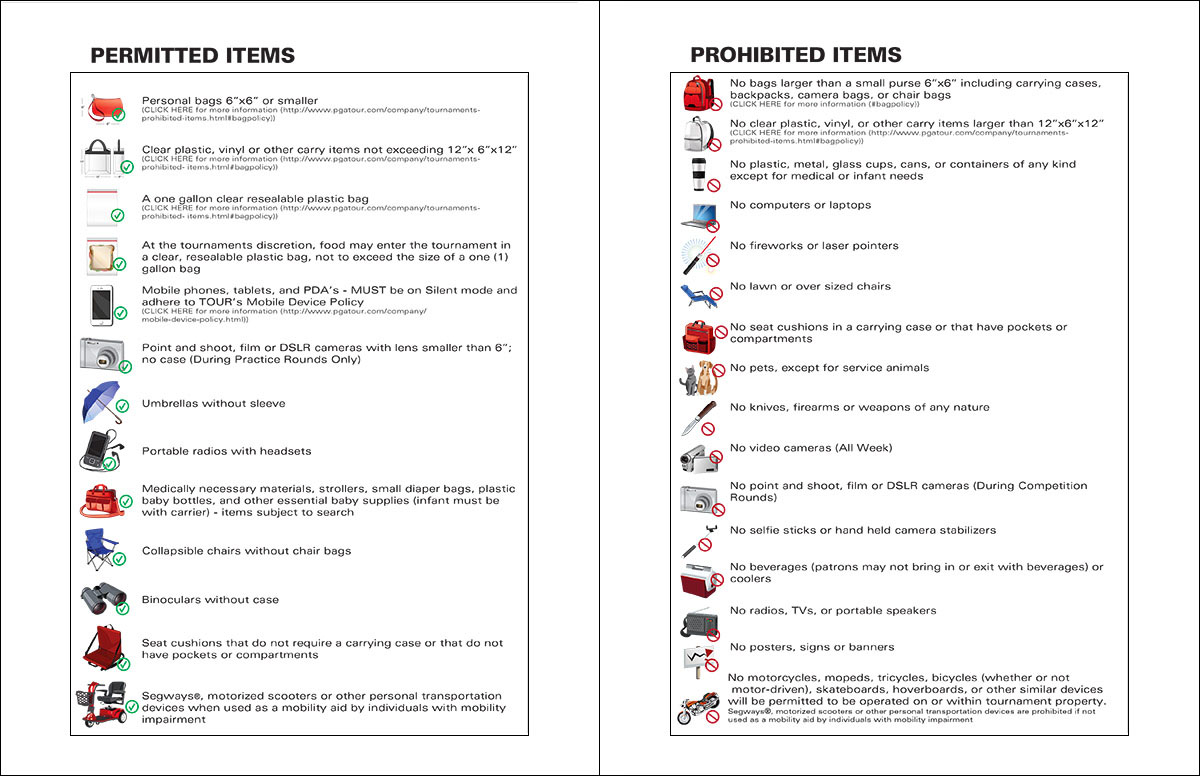 No backpacks
No bicycles
No chair bags, lawn or over-sized chair or seat cushions
No cameras (Thursday-Sunday)
No camera bags
No video cameras, tvs, radios, or other electronic noise producing items
No Computers or Laptops
No whistles, horns, noise makers or fireworks
No signs, banners, poles, rods or laser pointers
No pets except for service animals
No outside food or beverages may enter the Tournament except for medical or infant needs
No Glass Cups, Cans or Containers of any kind except for medical or infant needs
No Coolers of any kind
No Illegal Substances
No firearms or weapons of any kind - Please do not bring them or you will be required to return them to your vehicle.
Q. Are there any amenities for infants??
A. For those with children, please stop by the Family Care Pavilion presented by University Health System which located in The Backyard. It's a climate controlled venue that offers diaper changing stations, a place for mothers to nurse privately and for little ones to play. The Family Care Pavilion presented by University Health System is a place of respite for babies, and toddlers.
Q. If I need to leave, can I return?
A. Yes, you can stop by the entrance to get stamped so you can return to the tournament with ease.